A brand new zipline is coming to the U.S., but don't start making summer vacation plans just yet. California-based Zipline, which claims to operate the world's largest autonomous drone delivery network, is deploying its tech in North Carolina.  Zipline cut its teeth on airdrops of sensitive medical items like blood and medication, including nearly a million vaccines (not COVID) in Africa.
For the futurist supply chain pro, Zipline offers  wealth of imagined possibilities. In particular abundance are the implications on international shipping practices  – at least if countries can get their trade agreements in order. More important to the current state of affairs, though, is how the Zipline model facilitates getting the COVID vaccine to places that might not otherwise have access for quite some time.
This lack of access has mostly to do with the fact that the most effective COVID vaccines require ridiculously cold refrigeration. Transitioning the vaccine through the conventional supply chain on the way to more remote or less developed parts of the world poses some obvious challenges.
In response, the seven-year-old startup recently announced it will endeavor to develop cold chain capabilities with an unnamed COVID vaccine manufacturers in order to serve these harder to reach locations. And they have made quick work of what has no doubt been a massive undertaking.
According to the Zipline, that infrastructure will be ready as early as April in countries where it is currently active (i.e. Rwanda, Ghana, Nigeria).
A bit about how Zipline works:
Any item the company delivers must first go through a "node," which is the drone delivery equivalent to a distribution center.
Nodes are collocated with a drone airport, which runs on-demand flights.
Zipline drones have a 100-mile round-trip range.
Centers can service 8ooo square miles.
Deliveries take 30-45 minutes.
Amazon Adds 11 Aircraft for Faster Deliveries

And outside the lens of vaccination and the world's COVID recovery, if Zipline and their now well vetted tech is poised to lead the charge towards autonomous, aerial fulfillment – a direction in which the entire industry is certain to eventually head – then Amazon is making sure it makes its presence felt in the interim.
The company recently purchased 11 Boeing 767-300 aircraft, as it looks to further boost its transportation and delivery capabilities. Interestingly, these aircraft were purchased from existing commercial airliners and will join Amazon's air cargo network by 2022. This acquisition appears to bring Amazon's total fleet (owned and leased) to over 90.
Building out its air capabilities may be a part of the Amazon "big bang" to more broadly transition into third party transportation and logistics. Many believe Amazon's ultimate goal is to slate itself among UPS, FedEx or the Postal Service as a viable, end-to-end parcel carrier. To the doubters who believe Amazon to be an eCommerce company dabbling in web hosting, we cordially invite you to check out this this living overview of Amazon's global distribution infrastructure! That should clear up any skepticism.
Archer Accepts $1B from United Airlines, On the Same Day it Announces SPAC Deal

And as if we weren't already onto something with this whole aviation theme, Archer Aviation Inc. just announced plans to sell its all-electric vertical take-off and landing aircraft (eVTOL) to United Airlines for the low price of $1B. United and Archer will also collaborate on a battery-powered, short-haul aircraft.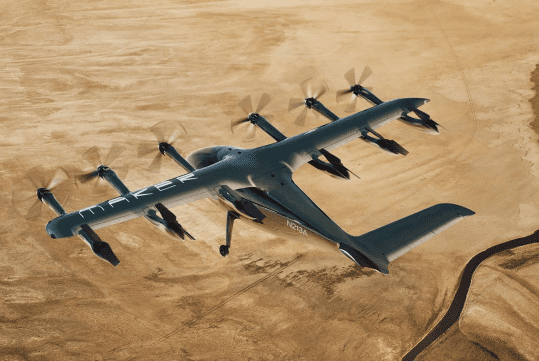 "Part of how United will combat global warming is by embracing emerging technologies that decarbonize air travel," said United Chief Executive Scott Kirby. "By working with Archer, United is showing the aviation industry that now is the time to embrace cleaner, more efficient modes of transportation."
In something of a carnival of riches for Archer, the Palo Alto, Calif.-based company has also entered into a merger agreement with special purpose acquisition company (SPAC) Atlas Crest Investment Corp. ACIC, which in effect will take Archer public.