1. Speaking of Lawns: The American Obsession with Lawns 
Lawns are the most grown crop in the U.S.—and they're not one that anyone can eat; their primary purpose is to make us look and feel good about ourselves
From the article: In the 18th-century, the use of green, expansive spaces began to appear in landscape design in France and England. At the palace of Versailles, a small lawn—a tapis vert (i.e., a green carpet)—was installed. And in England, the trend inclined toward more open landscapes with fewer fences and hedges. This space was covered by closely mown grass. Thomas Jefferson, who was among the few to see these changes firsthand, was greatly impressed by the large swaths of green turf that were common to English country estates and tried to emulate this style at Monticello.
George Washington hired English landscape gardeners to achieve a similar end. Mount Vernon had a bowling green and a deer park, also common elements in English garden design. The popularity of Washington and Mount Vernon helped the contagion of the idea of a lawn as images of Mount Vernon were produced and distributed throughout the United States into the 18th- and 19th-centuries. This gave wealthy Americans something to copy and aspire to. Coming from a leader such as Washington lent credence to the perception that this was a break was the norm and unique to America.
---
2. Six Weirdest Quibi Shows, Ranked – LEVEL
Micro-content platform, Quibi, is no more, but these shows live on in infamy!
---
3. We can't stop looking at this U.S elevation map. 
Compliments of @milehigherjoel on Twitter. We agree with the Colorado native that this map is "pretty neat."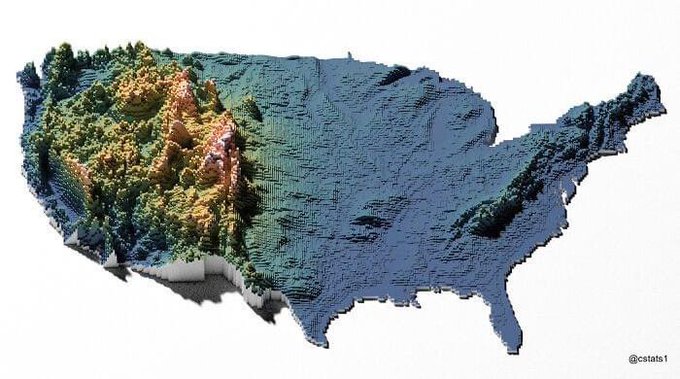 ---
4. Operation Wealth Speed – FORBES
Covid-19 brought terrible suffering, economic pain, geopolitical tension – and the greatest acceleration of wealth in human history. Why this pandemic paradox could become cause for celebration, not concern.
Despite the pandemic, it was a record-setting year for the world's wealthiest—with a $5 trillion surge in wealth and an unprecedented number of new billionaires. Forbes Chief Content Officer Randall Lane reflects on what the creation of a billionaire a day says about the state of capitalism.
Three events were particularly responsible for the minting of billionaires: the surge in SPAC deals, the classic IPO listings, and of course the Covid-19 pandemic.Delve deeper into the ranking: meet the women, the sports owners, the tech moguls, and the youngest members of the global billionaires' club. We also spotlight some of the highest-profile members of the ranking: MacKenzie Scott, Elon Musk, Donald Trump, and newcomer Kim Kardashian.
This is where billionaires reside. We've looked specifically at California in the U.S., at the Europe region, at countries like Mexico, Russia, India, and in China we've highlighted the newest billionaires along with the overall billionaires.