Ron Popeil, the inventor and infomercial legend whose kitchen and direct-to-consumer goods generated billions of dollars in sales in the United States, died Wednesday in Los Angeles. He was 86 years old.
Popeil "lived his life to the fullest and passed in the loving arms of his family," according to a statement released by his spokesman.
The cause was a brain hemorrhage, his sister Lisa Popeil said.
Popeil first appeared on television in a 1959 infomercial for the Chop-o-Matic, an invention of Ron's father S.J developed through the family business. Ronco, as the small appliance manufacturing company was called, went on to develop other similar products like Hair in a Can and Pocket Fisherman.
But it was the Showtime Rotisserie & BBQ that put Ronco on the map, largely due to Pompeii's transition into late-night infomercial fame. Soon, "set it and forget it" – Pompeii's catchphrase for the Rotisserie and BBQ – would become a part of American pop culture. Subsequently, Pompeii's notoriety as a TV marketer, and that of Ronco products, skyrocketed. 
Still trying to place the name? Here's a clip of Pompeii's charisma on full display in an especially enthusiastic pitch for the Ronco automatic pasta maker, shot sometime in the late 90's.
Popeil tells customers that his machine could create "thousands and thousands" of different varieties of pasta in "less three minutes."
Ronco is also responsible for the Rhinestone Stud Setter, now known as the Bedazzler, the Mr. Microphone karaoke machine, the Smokeless Ashtray, and the Inside-the-Eggshell Egg Scrambler.
Many American homes still house versions of Ronco products, and while some were seen as gimmick at the time, others are long-running fixtures throughout kitchens and craft rooms all across the country.
The products sliced, burned, shined, sharpened, cleaned, massaged, folded a fishing rod into a pocket, and used a spray can to conceal bald areas. He sold them all without shouting, a folksy, relaxing presence that turned half-hour infomercials into a viable genre of entertainment.
In 1994, Steve Bryant, a former QVC anchor, claimed, "Ron literally invented the business of direct-response TV sales," Mr. Bryant went on to discuss Ron's ability to appeal to the customer pathos noting how Ron "paints in very definable brushstrokes, and every doubt in the customer's mind is wiped away."
Mr. Popeil (pronounced poh-PEEL) was born on May 3, 1935, in New York. His parents divorced when he was a child, and he was raised by grandparents in Chicago. He said he never had a proper childhood, and famously noted never having had a birthday celebration.
After his father, Samuel Popeil, developed various household products, including the Chop-O-Matic, Ron, an already industrious teenager, took to selling the inventions at a Chicago Walgreen's.
He regarded his father as all business and Ron and Sam's relationship was a reflection of that until Sam's death in 1984. Beyond the strained relationship between father and son, Sam Popeil proved sufficiently eccentric. In 1974, for example, his second wife Eloise was convicted as part of a conspiracy to assassinate Sam. The pair remarried after she served 19 months in prison following the conviction.
While Ronco was originally born out of his father's inventions, the company grew to develop many similar products independent of Sam. When Sam dies in 1984, the company was forced to dissolve by its creditors. Ron purchases all remaining trademarks and inventory for around $2M, and a few years later, paid just $33,000 to produce the first one-hour Ronco infomercial spot. It would cost Mr. Pompeii another $60M to air the spot on local stations and cable channels – a worthy investment as the sales from the first infomercial is said to have netted nearly $90M in sales.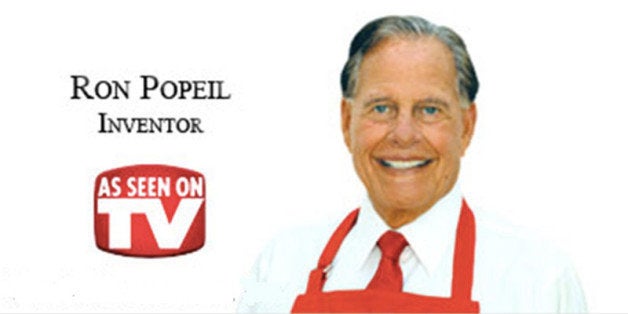 Pompeii repeated this model again and again over the years, before finally selling Ronco In 2005 for approximately $56 million. But throughout the next year, without Ron leading the marketing charge, sales decreased by 35%, and within two years, the company went bankrupt. Ronco was briefly resurrected in 2008, but is once again defunct.
"The Popeil-Ronco story goes back to the old pitch traditions of when somebody used to stand up at a county fair or on a boardwalk and, through nuances of word, voice, gestures, could get somebody to stop in their tracks and buy something they would never consider buying," Tim Samuelson, author of "But Wait! There's More!," a book about the Popeil family, said in 2008
Ron's prevalence as a fixture on stations across the country led to his taking on something akin to B-list celebrity status. His gadgets even became the subject of a Saturday Night Live skit starring Dan Aykroyd, and in a song called "Mr. Popeil" by 90's era parody musician, Weird Al Yankovic.
"I've gone by many titles: King of Hair, King of Pasta, King of Dehydration, or to use a more colloquial phrase, a pitchman or a hawker," Mr. Popeil said in 1995. "I don't like those phrases, but I am what I am. Pick a product, any product on your desk. Introduce the product. Tell all the problems relating to the product. Tell how the product solves all those problems. Tell the customer where he or she can buy it and how much it costs. Do this in one minute. Try it. You know what it sounds like? It comes out like this: Brrrrrrrrrrr."
Mr. Popeil is survived by his wife, Robin; daughters Kathryn Gantman, Lauren Popeil, Contessa Popeil, and Valentina Popeil; another sister, Pamela Popeil; and four grandkids, in addition to his sister Lisa.