At the end of August we wrote about the war between Amazon and seemingly everyone else in retail/supply chain services.
Among the anti-Amazon rebel alliance are notable companies as Walmart, Target, Kroger, Best Buy, and Shopify (though CEO, Tobi Lutke rejects the idea that he is even in the same line of work as Bezos).
With a lineup like that, it's easy to see why smaller firms might want to join the cause. Enter ShipBob, a Chicago-based company identified in an article today from Reuters as "a logistics and shipping company that helps small and midsize companies deliver their wares with speed and pricing similar to Jeff Bezos's $1.6 trillion empire."
The "wannabe Amazon" raised $68M through SoftBank Group which it hopes to use for two new U.S. facilities this year and ten more across the globe in 2021.
What's really interesting about ShipBob's latest planned expansion, however, is what it means for the future of DTC.
As more and more companies become frustrated with Amazon's merchant services and the cannibalistic nature of the Amazon seller ecosystem, we are likely to see emerging consumer brand products opt to piece-meal their supply chains.
Here's the formula for how that might look:
A brand launches its web presence on WordPress, Weebly, Wix, SquareSpace, etc., using a Shopify integration for its online storefront.
A series of other SaAs platforms are employed for email marketing, graphic design, social media content creation, discount codes, various deals and special offerings, and all the corresponding digital campaigns.
Marketing efforts are working, orders are flying in, and that same brand must now make a decision about fulfillment.
It turns to a small fulfillment house (not necessarily ShipBob, but a firm built for optimal partnership with small emerging product brands and mid-sized, direct shippers).
For brands, that is pretty much the entire supply chain – what Amazon does in one fell swoop. So what's the difference? The piecemeal strategy will save companies from coughing up the sizable percentage Amazon skims off the top of sales. Perhaps more importantly, brands are able to avoid the sort of cannibalistic product replication that seems to have become inevitable of the merchant sellers agreement.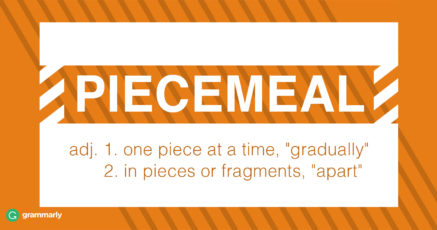 That's not to say the convenience factor isn't tempting, but is one click of the mouse considerably less taxing than five or ten? Is the marginal energy save of working with Amazon exclusively worth the price of admission? Probably not.
To be clear, this does not make Amazon the evil empire and ShipBob the rebel alliance. In fact, the benefits of the piecemeal strategy have little to do with ShipBob or the company's recent fundraise. What's really exciting is the model in and of itself. It's about the fact that there is a need, and in one scenario, ShipBob fills that need.
But there's a reason why we're so focused on the ShipBob scenario, at least for the time being. Mainly, the company's financials are STELLAR, which certainly makes ShipBob's network of fulfillment services pretty darn attractive to acquisition suitors. This is especially true for those hoping to give Amazon a run for their eCommerce money. Still, emerging DTC brands might want to simply think about the role of fulfillment in the piecemeal supply chain as a blank space for now. In a perfect world, brands could plug in any small to medium sized fulfillment house that makes sense in terms of expertise, regional HQ, warehouse space, and location optimization.
For instance, sub-box brands, or those hoping to scale towards direct retail, would be wise to turn to a 3PL like Fosdick for its history of expertise around those service categories, among others. A Fosdick partnership would make even more sense for product companies operating out of east coast business epicenters like New York or Boston, or in West Coast equivalent cities like San Fran, LA, or Silicon Valley due to Fosdick's bi-coastal presence.
There are a couple of sound reasons for this. First, in addition to pointed logistics experience across a wide range of business models and subsequent sales channels, Fosdick, as an example, is well suited for work with emerging startups in terms of our size and reach. Our company prides itself on our ability to focus a large chunk of its customer service towards emerging startups with massive scale potential.
But also, let's face it: the acquisition writing is on the wall, and it seems inevitable that one of the large retail players vying for a piece of Amazon's eCommerce market share will eventually move to acquire ShipBob. If and when this happens, it's safe to assume this new supernova e-tailer will mimic the Amazon model, which we already know runs counter to the interests of small brands. For reference, one need only look to Walmart's new member subscription service, Walmart+, a slightly different but principally similar example of corporate copycatting.
So what should small brands do? First and foremost, it is vital to remember that merchant sales with Amazon is just one of what should be many channels. And as brands grow and evolve, so do the ways in which they market products and pad revenue. With this in mind, it would seem small to mid-sized fulfillment is a company's best bet in realizing its potential.
After all, the rest of the infrastructure is there – just look to the piecemeal supply chain and avoid the temptation of exclusive merchant services. The Amazon traps have been clearly marked along the path, and make no mistake, the company really doesn't care who knows it.
If ShipBob is truly acquired, we can likely expect more and more companies to follow suit with their own merchant sales model. Going forward, we think that means more trip wires meant for unsuspecting startups that brands must avoid for any chance at longevity.
In the meantime, it would be wise for startups weighing Amazon vs. the piecemeal supply chain to keep their eye out for a regional, 3PL set up for brand success. Whether that means warehouse location or service expertise, there's an ideal logistics pro out there: one with a face, a name, and a direct line, who will hear concerns and cater services for optimized long-term potential.