January 2017: Trump inherits an empty USPS Board of Governors
Barack Obama's nominees for the USPS Board of Governors are blocked. Trump is able to appoint a Republican majority of his own choosing. Unusually, Trump inherits an empty board. The USPS Board of Governors is typically comprised of 11 members serving seven-year terms.
Apr. 12, 2018: Trump creates the Task Force on the United States Postal System by executive order. The force is created in order to create a more " sustainable business model" for the Postal Service.
April-May 2018: Trump personally pressures Postmaster General Megan Brennan to double the rate the Postal Service charges Amazon
Dec. 4, 2018: Task Force on the USPS releases its report.
Some of the major recommendations are:
Revamping the USPS governance structure

Narrowing the definition of the universal service requirement (which would allow the Postal Service to charge increased rates for types of mail deemed outside the scope of "essential services")

Renegotiating costs to "modernize" the labor force

Maintaining the 2006 Postal Accountability and Enhancement Act requirements to prefund pension health benefits

Exploring new revenue streams.
The report denounces the idea of postal banking popular with Democrats, but endorses various other avenues for expansion. These recommendations include sharing physical retail space, licensing mailbox access, and selling hunting & fishing licenses.
Feb. 5, 2020: The House passes the USPS Fairness Act, which would repeal the controversial requirement that the Postal Service pre-fund its future retirement health benefits.
It is typical for institutions to prefund pension plans. The Postal Service, however, is unique that it is also required to prefund health benefits. Both the Government Accountability Office and scholars have identified the pre-funding requirement as a major financial burden that hamstrings agency flexibility.
The measure has yet to receive a vote in the Senate.
March 2020: Postal workers report insufficient personal protective equipment (PPE) and lax safety precautions at work, as the USPS struggles to adjust to the pandemic and procure supplies needed.
Apr. 8, 2020: Trump tweets that mail-in voting has "tremendous potential for voter fraud, and for whatever reason, doesn't work out well for Republicans."
Apr. 9, 2020: Postmaster General Brennan testifies before the House Oversight and Reform Committee that USPS would lose $13 billion in FY2020, and would run out of money before the end of September.
Brennan makes a unanimous request for $75 billion in aid on behalf of Trump appointed USPS board of Governors: $25 billion in grants to offset COVID-induced losses, $25 billion to modernize the Postal Service vehicle fleet and infrastructure, and $25 billion in unrestricted borrowing authority from the U.S. Treasury.
Apr. 10, 2020: Brennan releases a statement on USPS stimulus needs, announcing that "the sudden drop in mail volumes, our most profitable revenue stream, is steep and may never fully recover."
Apr. 11, 2020: Reporting emerges that the Trump administration blocked USPS aid in the CARES Act, threatening a veto if any bailout was included in the bill.
Apr. 24, 2020: Trump issues ultimatum to USPS: raise package prices or miss out on $10 billion line of credit approved by the CARES Act.
May 4, 2020: USPS announces that David C. Williams has resigned from the USPS Board of Governors effective April 30, 2020.
May 6, 2020: Louis DeJoy is selected by the USPS Board of Governors to be the next Postmaster General, effective June 15, 2020.
May 24-28, 2020: Trump releases a series of tweets regarding absentee voting.
June 1, 2020: In an interview with New York Times Magazine, Attorney General William Barr casts doubt on the security of absentee ballots against foreign interference.
June 14, 2020: Senate Minority Leader Chuck Schumer (D-N.Y.) sends a letter to the USPS Board of Governors expressing "serious concerns regarding the selection of DeJoy as the next Postmaster General," and asking for full transparency regarding the search process.
June 25, 2020: Attorney General William Barr reiterates his claim that absentee ballots are vulnerable to foreign interference in an interview with NPR.
July 2, 2020: The USPS Board of Governors responds to Schumer's June 14th letter, "respectfully declin[ing]" to turn over most of the documents related to Postmaster General DeJoy's appointment, claiming they are confidential.
July 10, 2020: The Postal Service begins circulating two internal memos announcing major changes to mail delivery procedures.
July 22, 2020: USPS General Counsel Thomas Marshall writes a letter to House Oversight Chair Carolyn Maloney, asserting that the new memos did not "originate[] from Postal Service Headquarters," and thus "should not be treated as official statements of Postal Service policy."
July 25, 2020: The Postal Service initiates an Expedited to Street/Afternoon Sortation pilot initiative in order to cut costs. The initiative entails mail trucks leaving at their scheduled times and a stoppage of mail sorting at the end of the work day, even if the day's mail is not completely sorted or loaded.
July 29, 2020: The Treasury Department and the Postal Service agree on terms for a $10 billion loan, as authorized by the CARES Act.
July 29–July 31, 2020: The Postal Service sends letters to 46 states warning that "certain deadlines for requesting and casting mail-in ballots may be incongruous with the Postal Service's delivery standards."
In the letters, Postal service General Counsel Marshall warns that delivery standards cannot be adjusted to accommodate state elections. Absentee ballots should be requested within 15 days prior to Election Day and sent in within one week.
Aug 7, 2020: A group of Democratic lawmakers in the House and Senate, led by Senator Elizabeth Warren (D-Mass.), writes to Postal Service Inspector General Tammy Whitcomb asking her to investigate DeJoy's recent changes to service and procedures, as well as any potential financial conflicts of interest arising from DeJoy's "$30.1 million to $75.3 million in assets in Postal Service competitors or contractors".
Aug. 7, 2020: DeJoy announces an agency restructuring when addressing the USPS Board of Governors.
Aug. 11, 2020: USPS says it is in a "financially unsustainable position."
Aug. 11, 2020: House Oversight Chair Maloney introduces the Delivering for America Act, which would "prohibit the Postal Service from implementing or approving any changes to the operations or service levels in effect on January 1, 2020, that would impede prompt, reliable, and efficient service" for the duration of the pandemic or until January 2021.
Also within the bill:
$25 billion in emergency funding allocated to USPS
All official election mail is to be treated as First-Class
Removal of mailboxes or mail sorting machines prohibited
Aug. 11, 2020: Schumer decries Postmaster General DeJoy's suggestion that election mail, including absentee ballots, be sent First Class in order to avoid delays, given historical practice of prioritizing election mail regardless of its rate classification.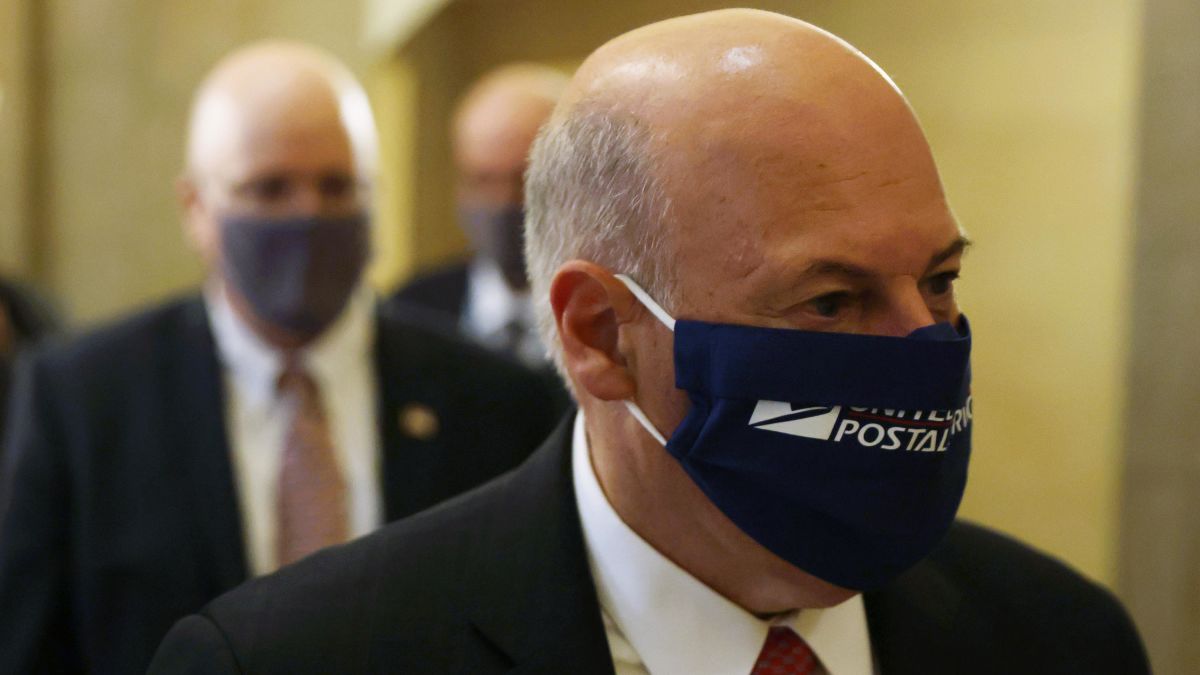 Aug. 12, 2020: Financial disclosures reveal that DeJoy still maintains at least $30 million worth of stock in his former company and Postal Service competitor, XPO Logistics.
Aug. 12, 2020: During a telephone rally, Trump encourages North Carolina voters to vote absentee. "Absentee voting is a secure process. It's initiated by the voter — you request it — and every voter is verified. Every vote is verified. It's the exact opposite of the Democrats' voter fraud scheme. They want to mail ballots to every eligible voter all over the state."
Aug. 13, 2020: Trump explicitly connects his opposition to Postal Service funding to the expansion of vote-by-mail, in an interview with Maria Bartiromo on the Fox Business network. The interview confirmed that Trump opposes absentee ballots for political advantage.
"They need that money in order to make the Post Office work, so it can take all of these millions and millions of ballots," Trump said. "If they don't get those two items, that means you can't have universal mail-in voting, because they're not equipped."
Aug. 13, 2020: A group of 31 Democratic Senators write to DeJoy expressing concern that "recent operational changes you ordered are needlessly delaying veterans' access to life-saving prescriptions, when the health and lives of Americans are already at high risk due to the COVID-19 pandemic."
Aug. 13, 2020: Reports break that the Postal Service is deactivating sorting machines.
Aug. 14, 2020: A group of lawmakers, led by House Speaker Nancy Pelosi (D-Calif.), write a letter to DeJoy, asking for additional information on "your policies and practices, the specific changes you are proposing, the rationale for those changes, and the potential impacts of those changes."
The letter inquires:
Whether election mail will be treated as First-Class mail, regardless of what class of mail was used to send it, as it has been in the past according to the USPS inspector general
What measures will be taken to "ensure timely delivery of absentee applications and absentee ballots"
What specific changes are being made to the Postal Service overtime policy
What considerations and planning went into restricting the number of trips mail carriers can make in a day, causing mail to be left behind in processing centers
Whether USPS considered the impacts of service changes in the context of the pandemic and the upcoming election
Aug. 14, 2020: After sparking outrage, the Postal Service suspend cost cutting measures put in place by DeJoy. These measures included limits on employee overtime, orders for trucks to depart on schedule even if there was mail still to be loaded, and the removal of some mail sorting machines.
Aug. 14, 2020: Multiple news outlets report that DeJoy is planning to decommission 671 letter sorting machines, 20 percent of its sorting capacity, according to internal USPS documents dating to May.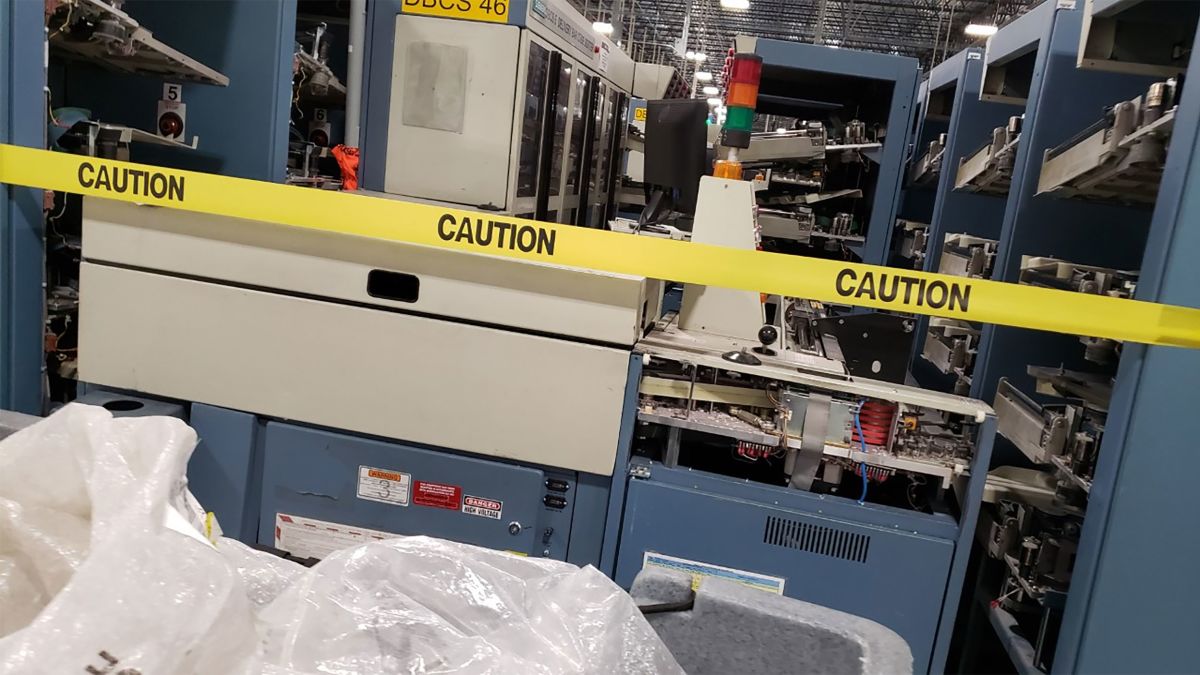 Aug. 14, 2020: The USPS Inspector General and Senator Elizabeth Warren both confirm that the inspector general is reviewing the policy changes implemented under DeJoy's tenure, as well as his compliance with federal ethics rules.
Aug. 16, 2020: Trump aides spar over unverified and false claims about voting-by-mail on Sunday news shows.
White House Chief of Staff Mark Meadows clashes with Jake Tapper on CNN's State of the Union 
Jason Miller on ABC's "This Week"
Jared Kushner on CBS's "Face the Nation"
Aug. 16, 2020: Speaker of the House Nancy Pelosi (D-Calif.) calls the House back to D.C., commits to vote on Delivering for America Act by the end of the week.
"In a time of a pandemic, the Postal Service is Election Central. Americans should not have to choose between their health and their vote," wrote Pelosi in a Dear Colleague letter.
Aug. 17, 2020: Senate Majority Leader Mitch McConnell (R-Ky.) addresses the state of the Postal Service in a press conference in Western Kentucky. "We're gonna make sure that the ability to function going into the election is not adversely affected," McConnell said.
McConnell also indicates that Mnuchin and the Trump administration are willing to support up to $10 billion in Postal Service aid to "make sure that the Postal Service is on good firm footing going into the November election."
Aug. 17, 2020: White House Chief of Staff Meadows tells reporters on Air Force One the Trump administration is willing to support funding for the U.S. Postal Service if it accompanies a package of coronavirus stimulus measures.
"The President is very clear he is willing to provide money for the post office as long as it is included in some other skinny measure if we can't agree to a larger deal," he said.
Aug. 17, 2020: The National Postal Mail Handlers Union issues a press release decrying DeJoy's actions to remove processing equipment and leave behind mail each day to ensure trucks leave on schedule. "Employees of the USPS are ready, willing, and able to handle the expected surge of vote by mail materials," the press release reads. "If permitted, we will get the mail out, like we do every single holiday season; just let us do our jobs."
Aug. 17, 2020: DeJoy and Chairman of the USPS Board of Governors Robert Duncan agree to appear before the House Oversight Committee on Monday, August 24.
Aug. 18, 2020: Trump casts an absentee ballot in the Florida primary election.
Aug. 18, 2020: Republicans begin circulating an updated version of their skinny COVID-19 relief bill. It includes no new funding for USPS, but would forgive the $10 billion loan made to the Postal Service as part of the CARES Act.
Aug. 18, 2020: Over 20 states announce plans to sue over USPS changes.
Aug. 18, 2020: DeJoy announces that all changes to Postal Service procedures will be halted until after the election. 
Aug. 19, 2020: Pelosi meets with DeJoy to talk about the pause in operational changes at the Postal Service. Pelosi releases a statement after the meeting, saying DeJoy's "alleged pause is wholly insufficient and does not reverse damage already wreaked."
Aug. 19, 2020: Schumer writes to the USPS Board of Governors, asking that Russell Reynolds Associates, the national search firm who identified DeJoy, be released from its non-disclosure agreement.
Aug. 19, 2020: White House Press Secretary Kayleigh McEnany expresses White House openness to $25 billion in aid for the Postal Service, depending on the other relief in the bill.
Q On the Post Office, are you able to share if you're — if the White House is open to the $25 billion that the Democrats are proposing? Or is $10 billion the cap?
MS. MCENANY: No, we don't have a cap. We're certainly open to looking at the $25 billion, but we want included in there relief for the American people that, thus far, Speaker Pelosi has been entirely uninterested in, as this President has taken unilateral action to protect Americans subject to eviction, to protect Americans who are unemployed, to protect Americans via a tax cut through payroll deferral.
So this President has taken action. Still, we're waiting on a reckless Speaker Pelosi to get back and do her job.
Aug. 19, 2020: The Postal Service is prohibiting employees from serving as witnesses for absentee ballots, the Anchorage Daily News reports. 
Aug. 19, 2020: USPS in talks with JPMorgan Chase to rent ATM spaces in post offices
Aug. 19, 2020: Reports emerge of postal machines being dismantled in Grand Rapids, MI, in apparent contradiction with DeJoy's order.
Aug. 19, 2020: KUOW reports that 40 percent of letter sorting machines in Seattle area had already been dismantled by the time of DeJoy's stand-down order.
Aug. 20, 2020: Motherboard reports that "USPS instructed all maintenance managers around the country not to reconnect or reinstall any mail sorting machines they had already disconnected," despite Postmaster General DeJoy's statement that all changes would be halted until after the election.
Aug. 20, 2020: David C. Williams, ex-member of the USPS Board of Governors, testifies before the Congressional Progressive Caucus.
Aug. 20, 2020: According to internal memos obtained by Motherboard, The Postal Service is warning employees not to speak to the press, or to answer too many questions from one person, for fear that they will turn out to be a member of the press.
Aug. 21, 2020: The Treasury Department puts out a fact sheet contesting David Williams' testimony. The fact sheet claims that Secretary Mnuchin played no role "in recruiting or suggesting Louis DeJoy to serve as Postmaster General.
Aug. 21, 2020: DeJoy testifies before the Senate Homeland Security and Governmental Affairs Committee.
Dejoy acknowledged operational changes put in place led to delays.
Despite this, Dejoy asserted the USPS would be able to handle the surge in mail volume due to ballots heading into November.
During testimony, DeJoy issued a strong support for using the mail to vote, saying he's done it and he supports all Americans having access to ballots they can send via USPS.
The hearing showed that the concerns about mail service are bipartisan, as several Republican senators expressed alarm at what they've heard from constituents about the delays.
Aug. 22, 2020: The New York Times reports that Mnuchin played a key role in making DeJoy's appointment as postmaster general possible. 
Aug. 22, 2020: Postal workers in Washington State reinstall mail sorting machines, in defiance of orders not to do so, Forbes reports.
Aug. 22, 2020: In floor debate, House Oversight Chair Carolyn Maloney (D-N.Y.) introduces an internal memo prepared for DeJoy showing steep declines in on-time delivery rate since the beginning of July. The memo, dated August 12th, appears to undercut DeJoy's testimony that there was only a "dip" in on-time delivery rates.
Aug. 22, 2020: House passes the Delivering for America Act, which would provide $25 billion in aid to the Postal Service and ban service changes until 2021.